Quality Assurance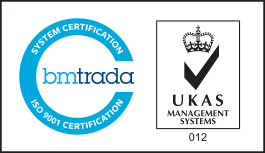 Our quality assurance system means that you can be sure that from the moment you contact us you know that you are dealing with professionals providing a well managed service conforming to strict international quality standards.
Our original assessment took place in 1994 and was carried out by Construction Quality Assurance (CQA) who accredited and issued us with our certificate to BS 5750:1987 (now changed to BS EN ISO 9001:2015) number 655.
The quality policy at Air Handling Equipment Limited is to provide you the customer with complete satisfaction during your experience of dealing with us.
We continuously strive to meet our objective of world class manufacturing status through our quality management system where our focus is on ensuring that our customers, when dealing with us, receive a professional and well managed service from start to finish. Our dedicated team of sales engineers and production engineers are at your disposal to process all your enquiries and through the use of our first class computerised facilities involving fully integrated CAD / CAM product realisation process will concentrate on satisfying all your needs through to the final product dispatch stage.
At all times an experienced and technically capable member of our team will be on hand to process your requirements and to ensure that any problems that you may encounter will be dealt with in a timely and professional manner.